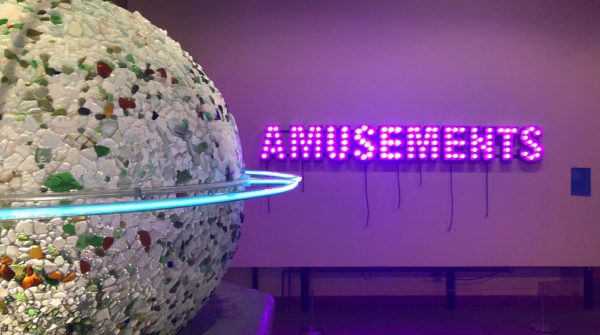 An interview with 

Stuart Langley

Many artists nationwide have been affected by lockdown in different ways with some finding it has been creatively restricting. Hartlepool Art Gallery wanted to touch base with four artists whom the gallery has had the pleasure of working with, to ask if this has been the case for them? In this interview we speak to Hartlepool's magician of light and colour,  Stuart Langley.
Gallery
Hi Stuart, can you tell me a little about your practice for people reading who may not be aware of your work?
Artist
My work focuses largely on light, colour and sculpture. I work with a wide range of materials (neon, stained glass, various forms of lighting and projection) and have been introducing digital arts into my practice more recently. I was lucky to stage a solo show at Hartlepool Art Gallery in 2018 called 'amusements' which people might remember featured a rainbow coming out of a skip.
Gallery 
In light of the current crisis, how has this impacted the way you work and how you have stayed motivated?
Artist
The lockdown provided an opportunity to pause and reflect on the way I was working and think about what I would like to focus on in the future. Motivation has been difficult and commission opportunities have been a lot scarcer although I have genuinely appreciated the unexpected pause in routine.
Gallery 
To what extent has your everyday life as an artist changed pre and post lock down?
Artist
My days aren't quite as hectic as they once were but I've been able to spend time developing ideas and concepts much more than usual.
Gallery
Has your online presence been helpful?
Artist
I don't have a huge online presence apart from my own website which desperately needs updating!
Gallery
Has there been any positives from working in new or different ways?
Artist
New ways of working always excite me so just thinking about alternative routes to audiences is a very positive thing.
Gallery
Has COVID changed your work in any way?
Artist
Absolutely. The majority of my previous work relied on having audiences as part of events, exhibitions or workshops so, like a lot of other artists, I'm looking at new ways of reaching audiences.
Gallery 
Do you have any future exhibitions planned and anything we should be looking out for?
Artist
I was fortunate to have been commissioned by Ushaw College in Durham to create an installation called 'outdoor windows' which can be seen there for the next month or so. I have also been working on a participative project called 'Hidden Bishop Auckland' which invites people living in Bishop to submit video artworks that I will be turning into a projection work.  I'm currently working on a few project proposals behind the scenes but they're not at a stage where I can share anything so fingers crossed.