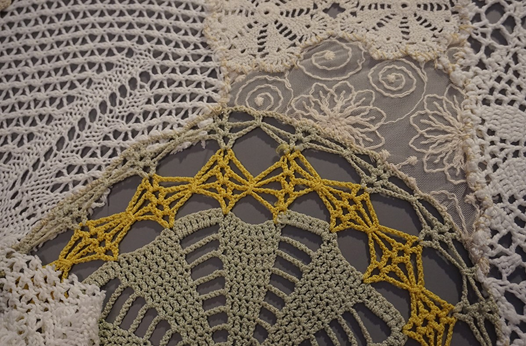 Julie Cockburn exhibited 'Stories From The Hive' in 2018 at Hartlepool Art Gallery.
In celebration of International Women's Day 2021 we will be revisiting some of the fantastic female artists we have had the pleasure to showcase in Hartlepool Art Gallery. We caught up with Julie Cockburn to see what inspires her and learn about what have been up to since exhibiting with us.
What inspires you/your work? 
       My inspiration seems to circle around connections, how things interact, connect and interconnect and effect each other. I have recently re-discovered my fascination with fibre and fabric, how it's used to communication so many things in so many ways. For example, Agnes Richter's jacket, a Victorian seamstress who embroidered her strait jacket while being held in Heidelberg psychiatric hospital, it was the only way she could be heard and keep a record of what she was experiencing. One of many examples that tells an untellable story.
What do you intend to get across through your work? 
       I hope my work, works on different levels to different people, being a woman, my observations come from my perspective of its time and its place. But we are all connected none the less, a dot of energy existing in time and space but for a short time.  It's easy to get lost in the everyday, Art has the ability to stop us in our stride and make us pause for a moment and feel. What I am striving for in my work is to whittle a little space, so the viewer experiences a different perspective of the everyday and can relate to it.
  What have you been up to since your exhibition with us?
       The Exhibition in September 2018 'Stories from the Hive' was the culmination of the work I had done during my Artist in Residence at Hartlepool Art Gallery. I worked through lots of my ideas during that time. That was followed by an exhibition at Greenfield Art centre in Newton Aycliffe.
The lockdown because of Covid-19, has given me time to reflect on my work and building my website:    https://www.juliepcockburn.com The process of organising my work for the website   forced me to re-evaluate what was important to me and why. Consequently, I am now working on a new body of work, exploring weaving, embroidery and drawing in three dimensions.
Who are your biggest female influencer's?
       There are quite a few female influencers who are important to me, Eva Hess, Louise Bourgeois, Judy Chicago, Susan Hiller and of course Frida Kahlo. 
What would you say to the next generation of female artists?
        I would say that the world is full of opportunities, and it's immensely important not to under estimate your own ability and belief in yourself. Listen to advice from people you trust and your own instinct, have fun and don't get too serious.
How, if anything, has your work changed over time?
       I started off on a textile's degree, then transferred into Fine Art Sculpture, in the Eighties that was almost inconceivable, and I was known as the 'textile girly' by the staff. I Feel that I have come full circle, but equipped with the best bits of both, and have finally found my sweet spot.
 Do you think societies attitudes have changed in relation to female artists?
       I think in some ways society's attitude has changed, but in others not at all. When I changed departments at Degree level, I went from a female dominated course into a very male dominated course, all stone carving and bronze casting. It was the first time I had experienced that gender based 'thing' and name a woman artist –no you can't because there isn't any attitude, so organisations such as AWA (Advancing Women Artists) who are reclaiming women artist from the past and putting them on the history map is huge, and that is happening more and more which is brilliant.  That is important because it gives a platform for young women artist to navigate from.