Event
AJ Productions presents Snow White and the Seven Dwarfs
Location
Hartlepool Borough Hall
Date
From: 20th August – 30th August 
Ticket Price
Adult – £18
Children – £15
Family – £59 (2 adults, 2 children)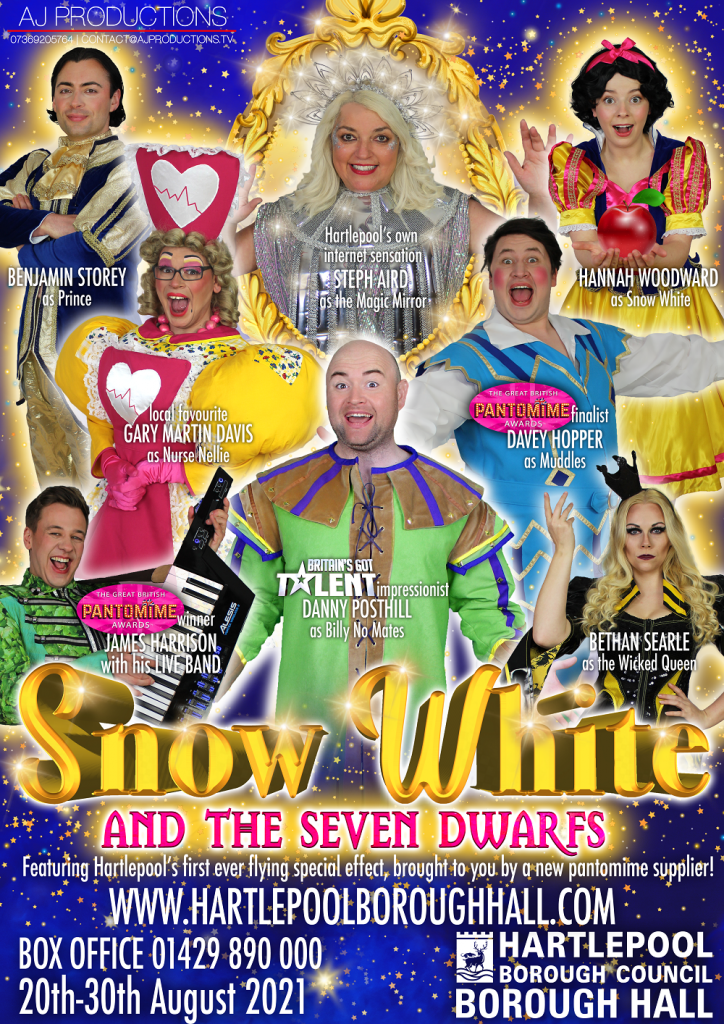 Snow White and the Seven Dwarfs
Mirror, mirror on the wall – this year's Borough Hall summer pantomime 'Snow White and the Seven Dwarfs' is the fairest family entertainment of them all!
Get set for a spectacular with no expense spared and special effects to amaze both children and adults alike!
Featuring Steph Aird in her pantomime debut as the Magic Mirror and Hartlepool's own Britain's Got Talent finalist, impressionist Danny Posthill.
Pantomime legend the hilarious Davey Hopper is Muddles and everyone's favourite dame, Gary Martin Davis, will be on the lookout for her next husband – so men beware!
As if lavish sets and gorgeous costumes weren't enough, the show also features a fabulous band including Great British Pantomime Award winner James Harrison – aka "the most enthusiastic man in show business."
So what are you waiting for – snap up your tickets today!