Event
AJ Productions present Snow White and the Seven Dwarfs
Date
From:
Fri 20th August 2021 – 3pm
Sat 21st August – 2pm –
Sat 21st August – 6pm
Sun 22nd August – 2pm – SOLD OUT!
Tues 24th August – 2pm
Fri 27th August – 2pm
Sat 28th August – 2pm
Sun 29th August – 2pm
Mon 30th August – 2pm
Location
Hartlepool Borough Hall, Middlegate, Headland, TS24 0JD
Ticket Price
Adult – £18
Children – £15
Family – £59 (2 adults and 2 children)
Tickets:
Please be advised we are avoiding the use of physical tickets to our shows and are asking customers to bring along their sales receipt email which will be used as their e-ticket to the performance they have booked.
Please Note: Due to the installation of new and improved seating for your comfort and safety, the seating plan on our website is no longer accurate. We will try our best to ensure you are seated the the approximate area that you choose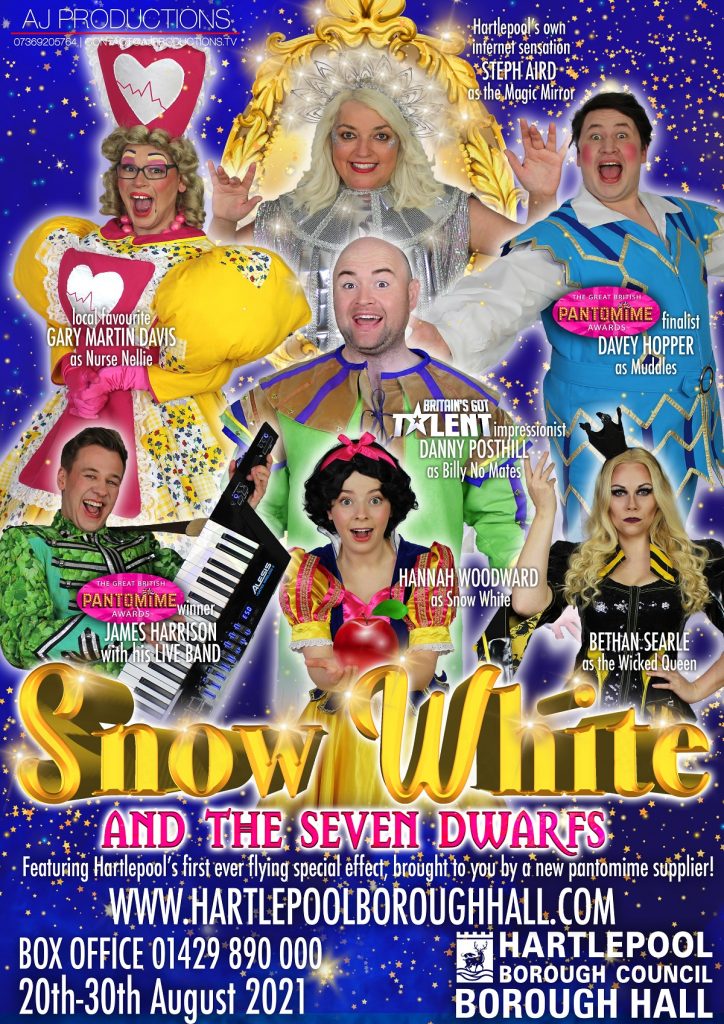 Mirror, mirror on the wall – this year's Borough Hall summer pantomime 'Snow White and the Seven Dwarfs' is the fairest family entertainment of them all!
Get set for a spectacular with no expense spared and special effects to amaze both children and adults alike!
Featuring Steph Aird in her pantomime debut as the Magic Mirror and Hartlepool's own Britain's Got Talent finalist, impressionist Danny Posthill.
Pantomime legend the hilarious Davey Hopper is Muddles and everyone's favourite dame, Gary Martin Davis, will be on the lookout for her next husband – so men beware!
As if lavish sets and gorgeous costumes weren't enough, the show also features a fabulous band including Great British Pantomime Award winner James Harrison – aka "the most enthusiastic man in show business."
So what are you waiting for – snap up your tickets today!
Casting displayed is subject to change due to illness or isolation whereby an understudy shall perform.
Socially-distanced shows!
*Important information about our upcoming Summer pantos at Hartlepool Borough Hall*
A COVID-SAFE VENUE
BOOK WITH CONFIDENCE!
We will be maintaining a socially distant seating plan throughout our venue, This means you'll be sat with your own bubble ensuring everyone feels as safe as possible! It's your choice if you would like to wear a mask or not.
In the unlikely event that Hartlepool Borough Hall cancels a show due to COVID-19 your tickets will be transferred to our Christmas pantomime (date of your choice). Many of our shows are already selling out so book now to avoid disappointment!