Event
Clinton Baptiste – Stratospheric – CANCELLED
Date
From: Thursday 16 Sept 2021 7.30pm
To: Thursday 16 Sept 2021 10.00pm
Ticket Price
Adult – £18
Artist
Clinton Baptiste 
Venue 
Hartlepool Borough Hall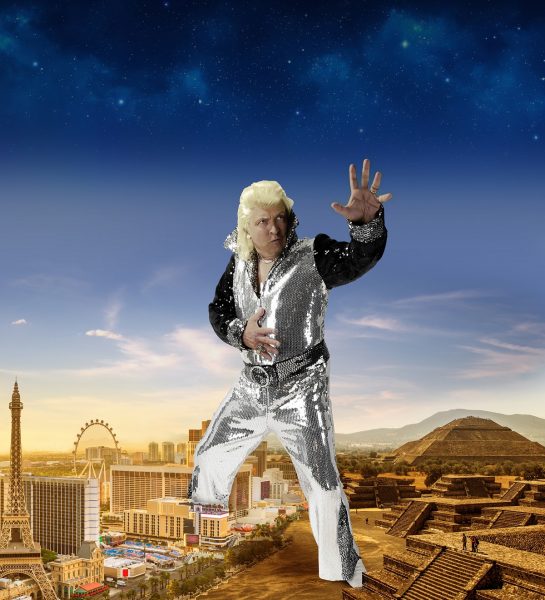 Clinton Baptiste - Stratospheric
**Unfortunately this show has been cancelled**
Last March, the celebrated paranormalist sensation that is Clinton Baptiste was halfway through his sell out celestial tour of the UK when Covid19 struck. Who could have foreseen that? This autumn he will return to the road with a brand-new show – CLINTON BAPTISTE: STRATOSPHERIC.
This time clairvoyant medium and psychic – the hapless, unsubtle psychic from Peter Kay's Phoenix Nights played by Alex Lowe – has gone exploring, stateside.
Not quite Caesar's Palace but a series of shows in Vegas have lifted his celebrity status up a notch. Let him take you on a journey from his humble roots via the dazzling heights of Sin City…..
…..and on to an amazing finale that will heal the world.
Viva Las Vegas…Viva Clinton!
Hear his tales of rubbing shoulders with the hippy dippy new-agers from La La Land and how he hits the big time in Vegas with his lavish psychic show.
For a while things couldn't be better. A new lease of life, new teeth, new hair and a buttock lift. (Both of them.)
But a humbly spiritual man at heart, Clinton realises that sometimes all that glitters ain't gold and now returns to you, his beloved British audience to once again conjure up those pure selfless gifts he was born with.
In Clinton Baptise: Stratospheric, ladies and gentlemen, Clinton will cast all fame and fortune aside……and heal the world!
The 36 date tour kicks off in Bristol on September 1, taking in Hackney Empire, The Old Market Hove and Blackpool Tower, before finishing on November 25 at King's Hall Ilkley.
"From the moment Lowe dances onto the stage the audience absolutely loves his show."
BRUCE DESSAU
"unashamedly crowdpleasing"
BEYOND THE JOKE
"old-fashioned comedy at its best."
BRITISH THEATRE GUIDE
"I would highly recommend grabbing a ticket. Seats are selling fast and you certainly won't be disappointed with this great evening of comedy."
"nothing short of genius."