Event
Hartlepool Stage Society Presents Little Shop Of Horrors 2023
Dates
Wednesday 14th June
Thursday 15th June
Friday 16th June
Saturday 17th June 
Ticket Price 
Standard £14
Concession £12
Venue
Hartlepool Town Hall Theatre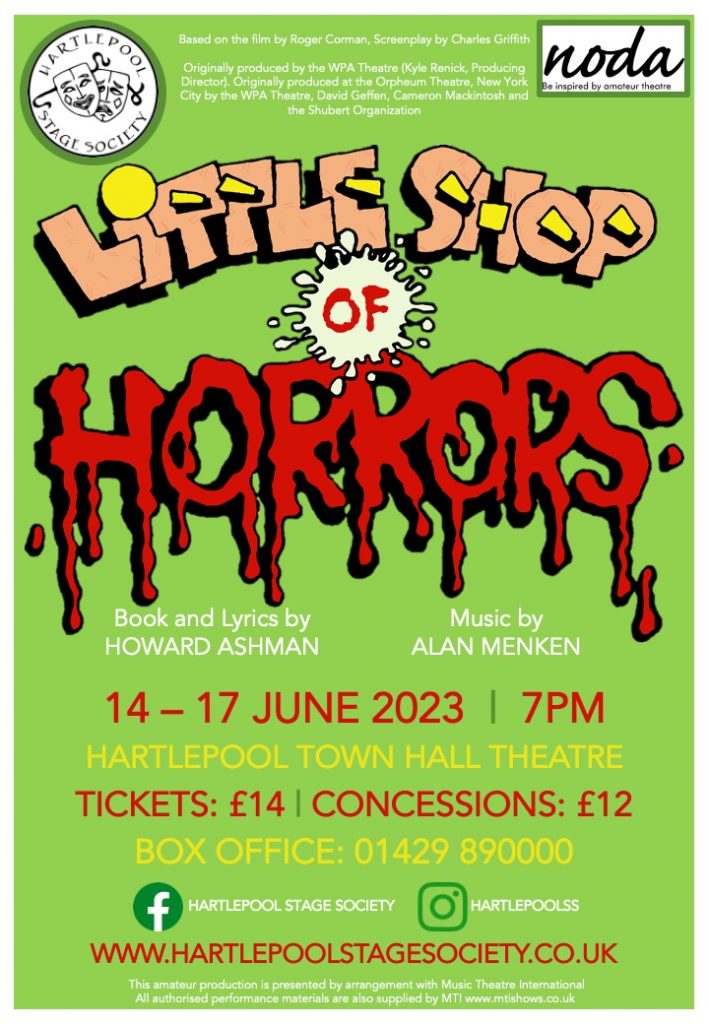 Hartlepool Stage Society Presents Little Shop Of Horrors
Look out! Award-winning rock-horror musical comedy, Little Shop of Horrors, is open for business!
Seymour Krelborn, a poor floral assistant, lives downtown on Skid Row. Constantly berated by his boss, Mr. Mushnik, and longing to be noticed by his beautifully flawed co-worker Audrey, Seymour serendipitously discovers a mysterious plant in town. Aptly naming it the Audrey II, Seymour takes the plant back to his run-down flower shop. Suddenly, Seymour's life is filled with recognition and riches, all thanks to the Audrey II. Unfortunately, the plant has an unconventional thirst for something other than water. Seymour is faced with the tough decision of giving into the lewd Audrey II's demands and continuing down the path to success, or returning back to his simple life.
Hit-filled and hair-raising, ludicrous laughs unfold in this unconventional, killer comedy musical.