Event
The English Martyrs School and Sixth Form College presents – Oliver

Dates
Tuesday 14th November
Wednesday 15th November 
Thursday 16th November 
Show time – 19:00
Please note doors open 30 minutes before show time.
Ticket Price 
Standard £12
Child £10
Over 60 £10 available from Box office at the Hartlepool Art Gallery.
Venue
Hartlepool Town Hall Theatre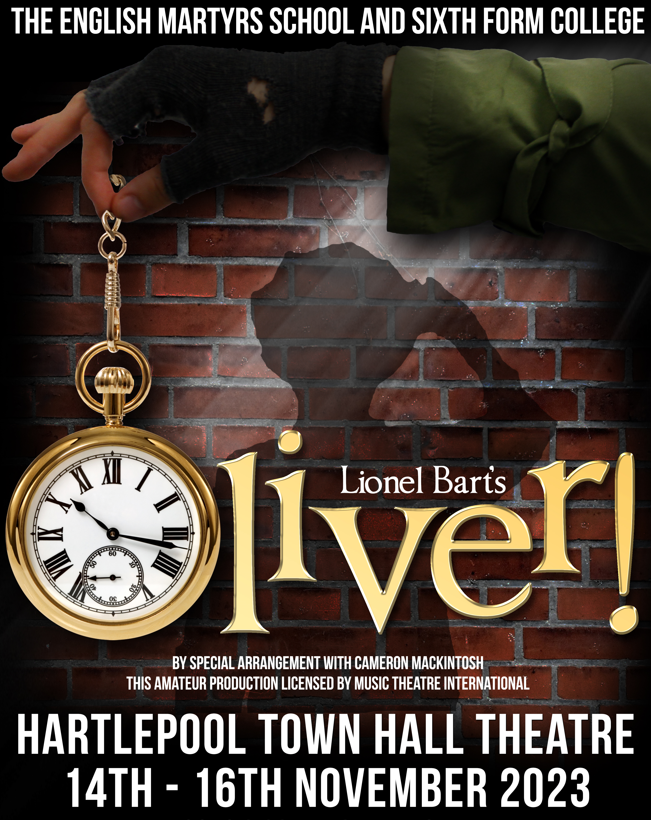 The English Martrys School and Sixth form college presents - Oliver
We are back! After 3years of not being able to produce one of our fantastic EMS musicals, we are super excited to present to you our 2023 production of Oliver! The award-winning musical adaptation of the classic Dickens novel springs to life with the most memorable characters and songs ever to grace the stage. "Oliver!" is the perfect family-friendly show, suitable for all ages. It's a heart-warming story of hope, resilience, and the power of kindness, making it an ideal outing for a night of entertainment with loved ones. Join us in celebrating the return of live theatre and the timeless charm of "Oliver!" Book your tickets today and let the magic of the stage wash over you once again. It's a production you won't want to miss!